Ohio Fine Art Photographer Who Loves Chasing Sunsets over Awesome Places
I'm an Ohio fine art photographer producing vivid canvas wall art in Dayton, Ohio.  I capture Miami Valley sunsets, skylines, and parks under colorful skies.
As evidenced by my US National Park art prints, peaceful West Virginia waterfalls scenes, and colorful views of St Louis, my work isn't limited to Southwest Ohio.  
The below post shares some of my signature pieces along with the interesting stories that accompany these art prints.  
Updates, News Releases, and the Rest of the Story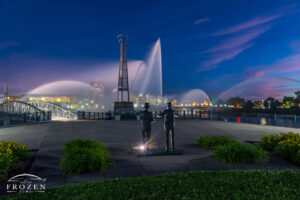 Dayton Fountain Art Prints There is one word that describes Dayton's Fountain of Lights art prints…majestic! At 800 feet across and 200 feet high, the fountain spray is one of the largest in the world. These artworks capture the Dayton Fountain in varying lighting conditions. …
Read More