The Opportunity In Front of You
If you are seeking large wall art employing evidence-based design (EBD) principles in healthcare art, this set of images captures recent installations in waiting rooms, foyers, hallways, and restaurants.  EBD doesn't only serve as great waiting room art in hospitals and medical facilities, but the same principles work just as well in corporate art settings.  My large canvas art prints or high-definition metal prints will bring vivid color to your professional space, add a sense of calm, while also giving you an opportunity to highlight your pride in the local community.  
I'm blessed to have access to a local, high-end printer that offers impressive capabilities.  My printers will turn these colorful images into large canvas (or multi-panel canvas) displays which will serve as a talking piece, as it adds to your wall or office décor.  I also have access to a second printer that produces really attractive and colorful prints on metal.  If you are looking to upgrade your wall decor, skip the abstract art or pastel print from the 1980s and install artwork that projects vivid colors and frankly will become the talking piece for your clients and employees.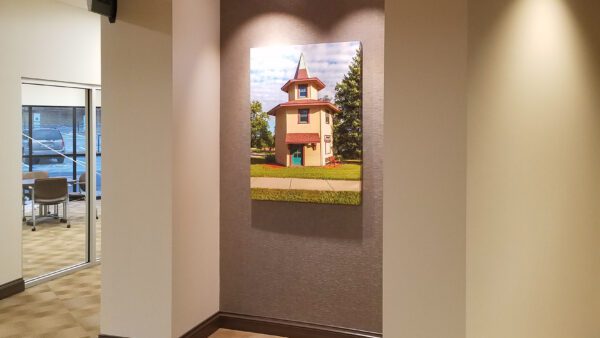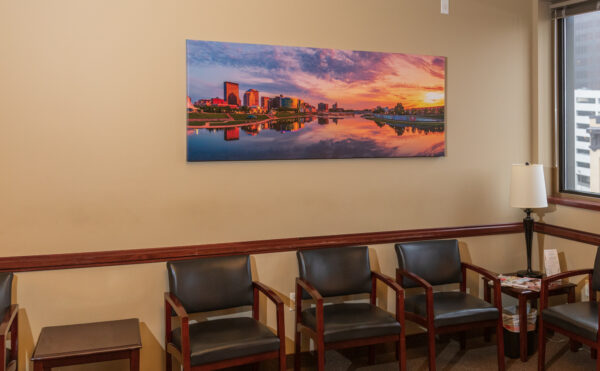 Some advice in decorating your waiting rooms and hallway
Abstract art may be appropriate in the art museum setting, but this genre of art is intentionally provocative and induces a sense of confusion as the viewer attempts to comprehend the meaning of the piece.  Is this really, the state of mind you want to impose on your clients as they await your services?   Researchers have already proved, scenes involving bright sunlit meadows, colorful flowers, or a local peaceful waterscape that places your clients and patients at ease.  In tests where researchers divided a study space down the hallway with scenes of nature and the other half of the rooms displaying outdated art...then black and white prints, and then even abstract art.  The data proved when patients were surrounded by representational landscapes or nature scenes, they required less pain medication, healed faster, and were discharged faster than those in rooms with outdated wall decor themes.  It's called evidence-based design in healthcare art.  It works just as well in corporate settings too!
If you need to decorate your professional spaces with artwork, you have an opportunity to do more than just fill in that blank space.  Select representational prints (a scene where the viewer immediately understands the subject; i.e sunlit meadow or garden).  Surrounding your clients in nature places them at ease.  Is there another state you'd rather impose on them?  In selecting the right artwork, find those local iconic landmarks or points of interest in amazing light.  Now you've placed them at ease and your wall decor becomes a conversation piece rather than something that simply fills wall space.  
After 24 years of serving in the Air Force, I'm ready to solve your challenges.  If an image comes close to meeting your requirements, I'll work closely with you to match colors and properly size the prints in order to honor your client's specific needs.  In short, if you have a challenge, problem, or question, please write me at Jeff@ArtofFrozenTime.com so I can make it happen!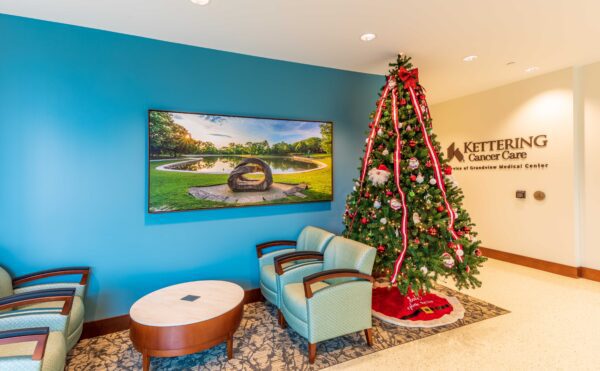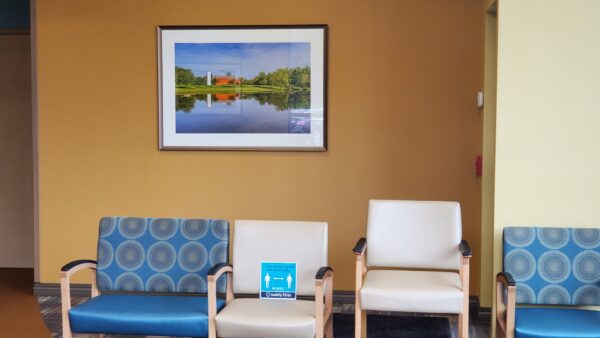 Businesses Displaying My Art
Kettering Health Miamisburg (Sycamore), Miamisburg, OH
Kettering Physician Network, Austin Landing
Kettering Physician Network, Huber Heights, OH
Soin, Beavercreek, OH
Kettering Health Franklin, Franklin, OH
Mandalay Banquet, Moraine, OH
Kettering Physicians Network, Xenia, OH
Kettering Physicians Network, Jamestown, OH
Dayton Club, Dayton, OH
Kettering Health Greene Memorial, Xenia, OH
Kettering Health Network Operations Center, Kettering, OH
Fort Hamilton Hospital, Hamilton, OH
Kettering Health Troy, Troy, OH
Kettering Health Piqua, Piqua, OH
Kettering Health Middletown, Middletown, OH
Kettering Physician Network Primary Care Xenia, Xenia, OH
Beavercreek Physicians Health Network, Beavercreek, OH
Kettering Health Network, Springboro, OH
CareSource, Dayton, OH
Huffman Prairie Holdings, Miamisburg, OH
Horenstein, Nicholson & Blumenthal Law Firm, Dayton, OH
Kettering Health Dayton (Grandview), Emergency Department, Dayton, OH
Kettering Cancer Center, 3rd Floor, Kettering, OH
Years Ahead Health Center, Centerville, OH
Mudlick Tap House, Dayton, OH