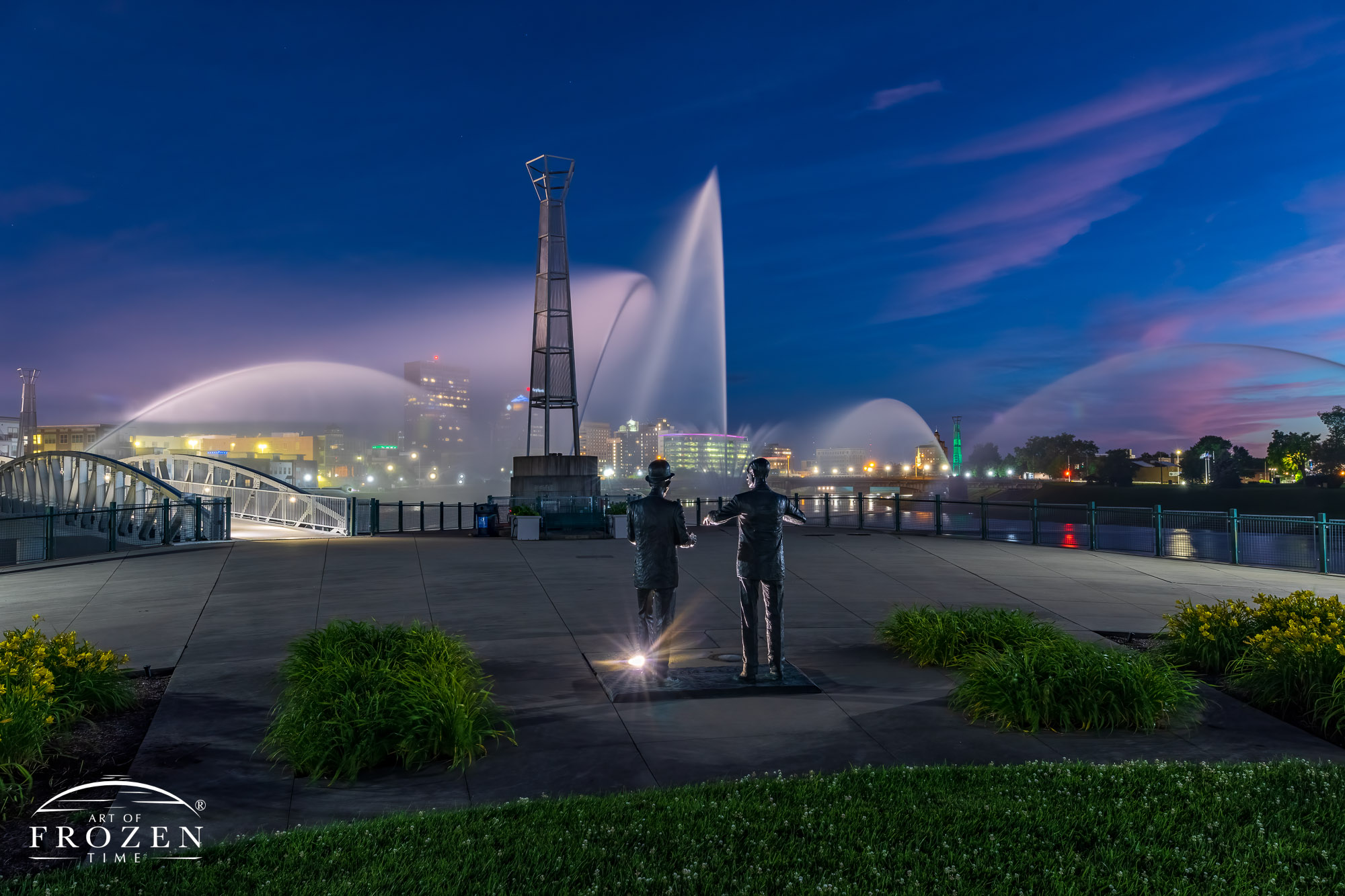 Dayton Fountain Art Prints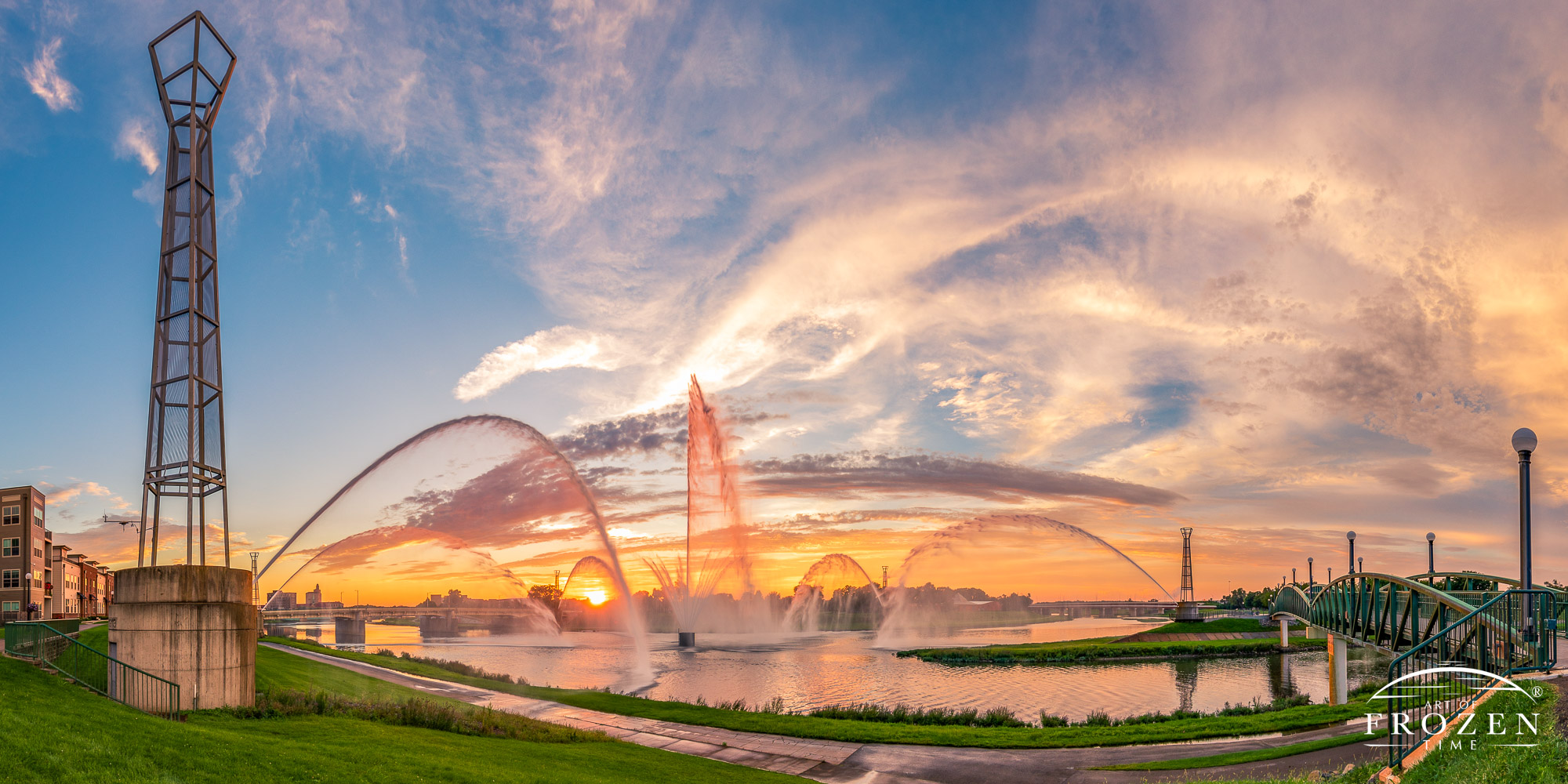 There is one word that describes Dayton's Fountain of Lights art prints…majestic! At 800 feet across and 200 feet high, the fountain spray is one of the largest in the world. These artworks capture the Dayton Fountain in varying lighting conditions. The fountains are so wide, capturing them with my 11mm lens is impossible. In nearly each of these Riverscape MetroPark vistas, I captured upwards of 90 separate images before forming a single panoramic print.
History of the Dayton Fountains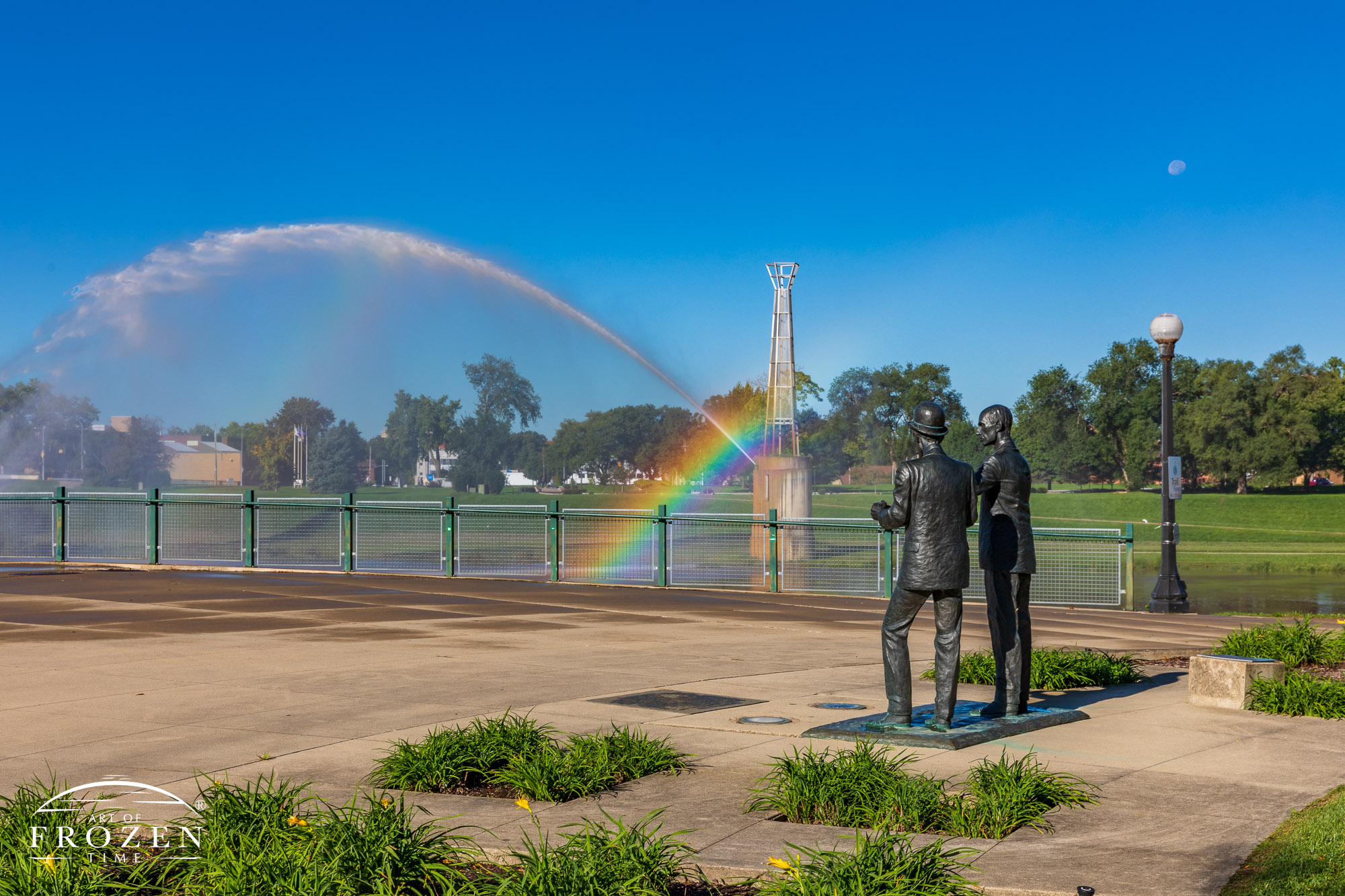 Nestled in the heart of Dayton, Ohio, the Fountain of Lights stands as a testament to the city's rich natural history. The fountain celebrates its ties to the Miami Valley's five rivers and its abundance of water from the Great Maimi Buried Valley Aquifer. Credit for today's magnificent fountain lies in the planning of the Five Rivers MetroPark and the Miami Conservancy District.
The fountain stands at the confluence of the Great Miami River and the Mad River. This point of land has long served as a park called Deeds Point. In 1995, park commissioners renamed the point Deeds MetroPark. In 2001, an adjacent park downriver called Riverscape MetroPark opened with much celebration. Today, both parks pay tribute to Dayton's inventors.
Daytonscapes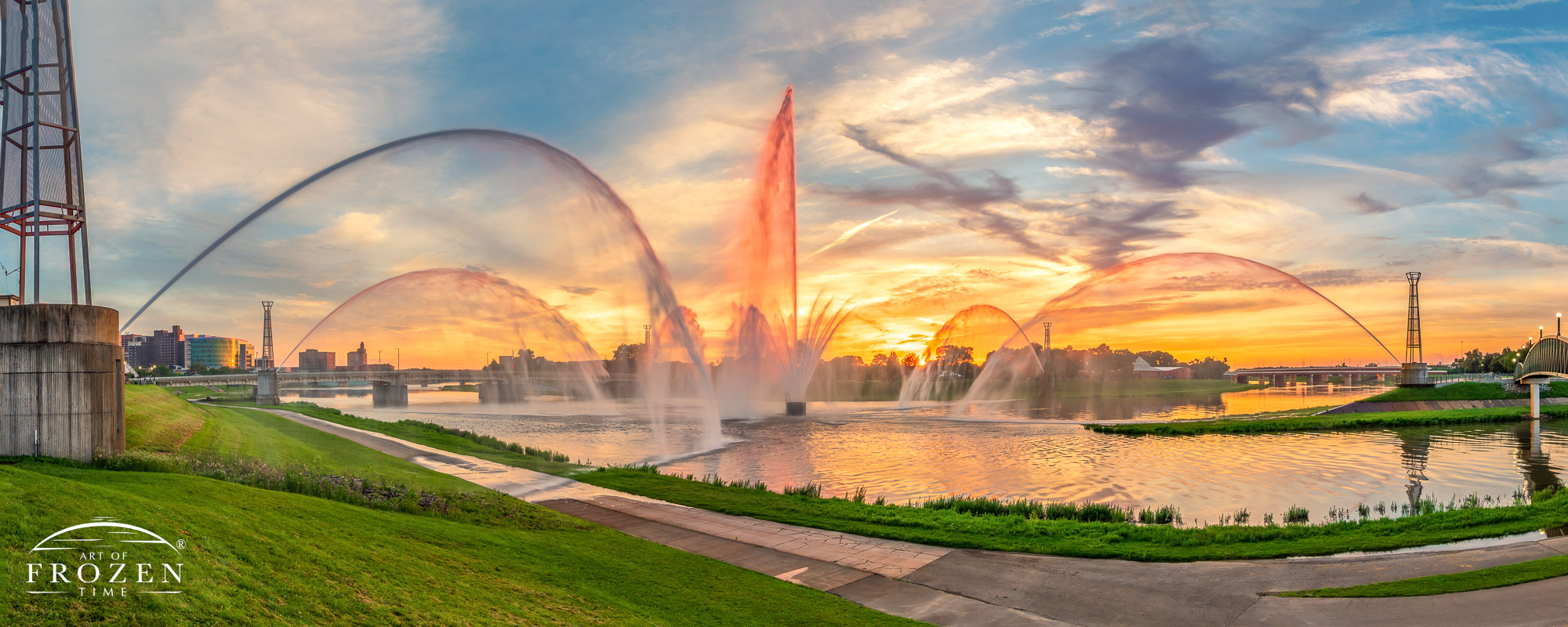 Each city has a unique profile, but I am continually enthralled by Dayton's skyline. Like most, Dayton was formed along a river. Unlike most cities, Dayton has worked to preserve its riverscape. Some of this preservation was placed in motion during the Great Flood of 1913. As Dayton's industrialists worked to prevent further floods, they formed the Miami Conservancy District. The MCD oversees our levies and storm retention dams which today hold treasures of the Five Rivers MetroPark and our awesome bike trail network. As a result of these conditions, the Dayton skyline, parks, and fountains form pleasing Daytonscapes.
Dayton Corporate Art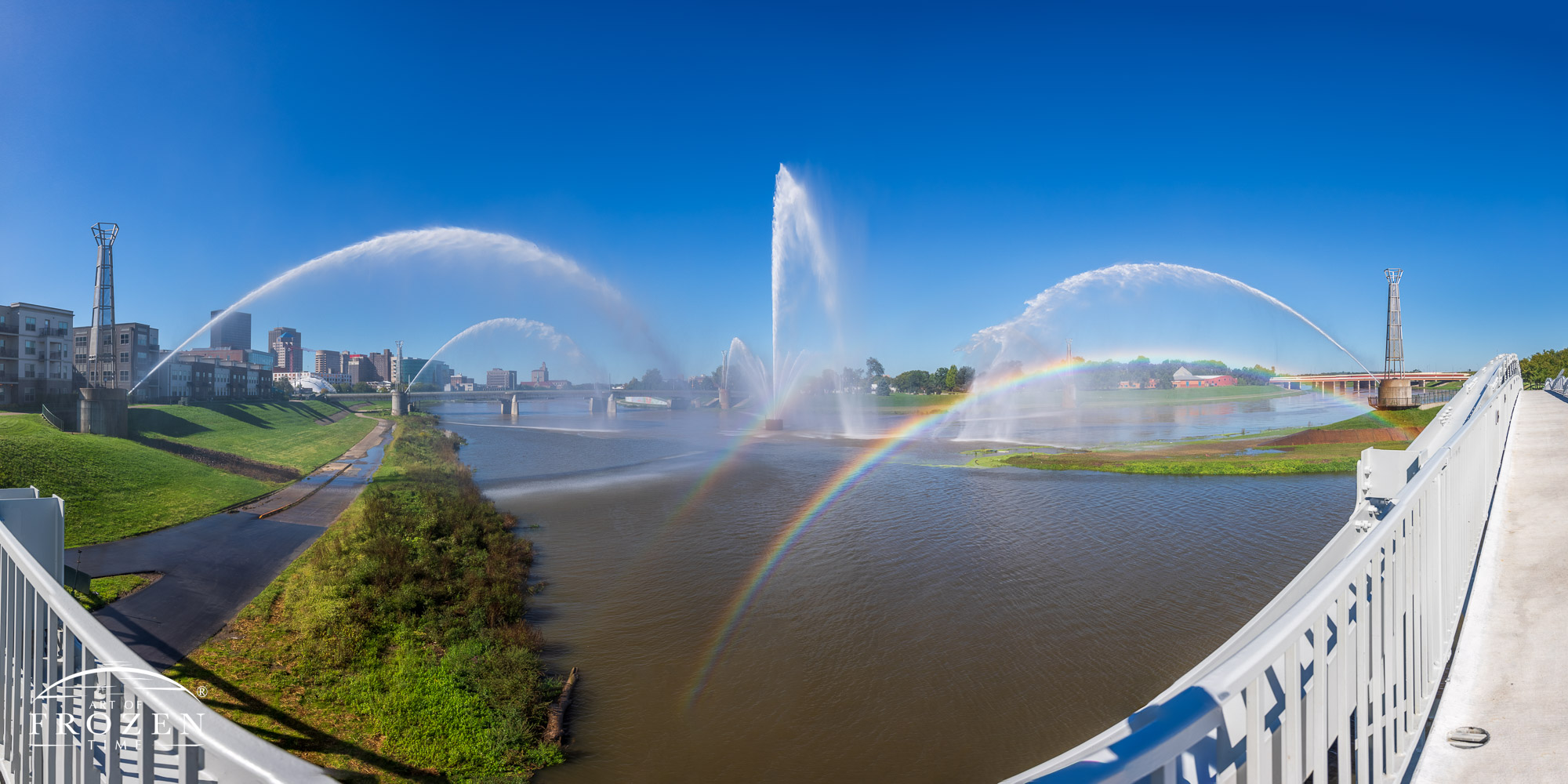 Since returning to Ohio, I've successfully marketed many of my Daytonscapes and Dayton Skyline prints to local corporate artwork clients. My fine art photography starts with monitoring our skies and weather. What makes my art prints attractive to art consultants and art buyers lies in capturing impressive color and clouds over an iconic Miami Vally landmark. Honestly, not every attempt works. In fact, some of my more successful prints required eight trips to capture the right alignment of sunset, clouds and waterscape. If you are seeking Dayton Corporate Art solutions be sure to check out these galleries: