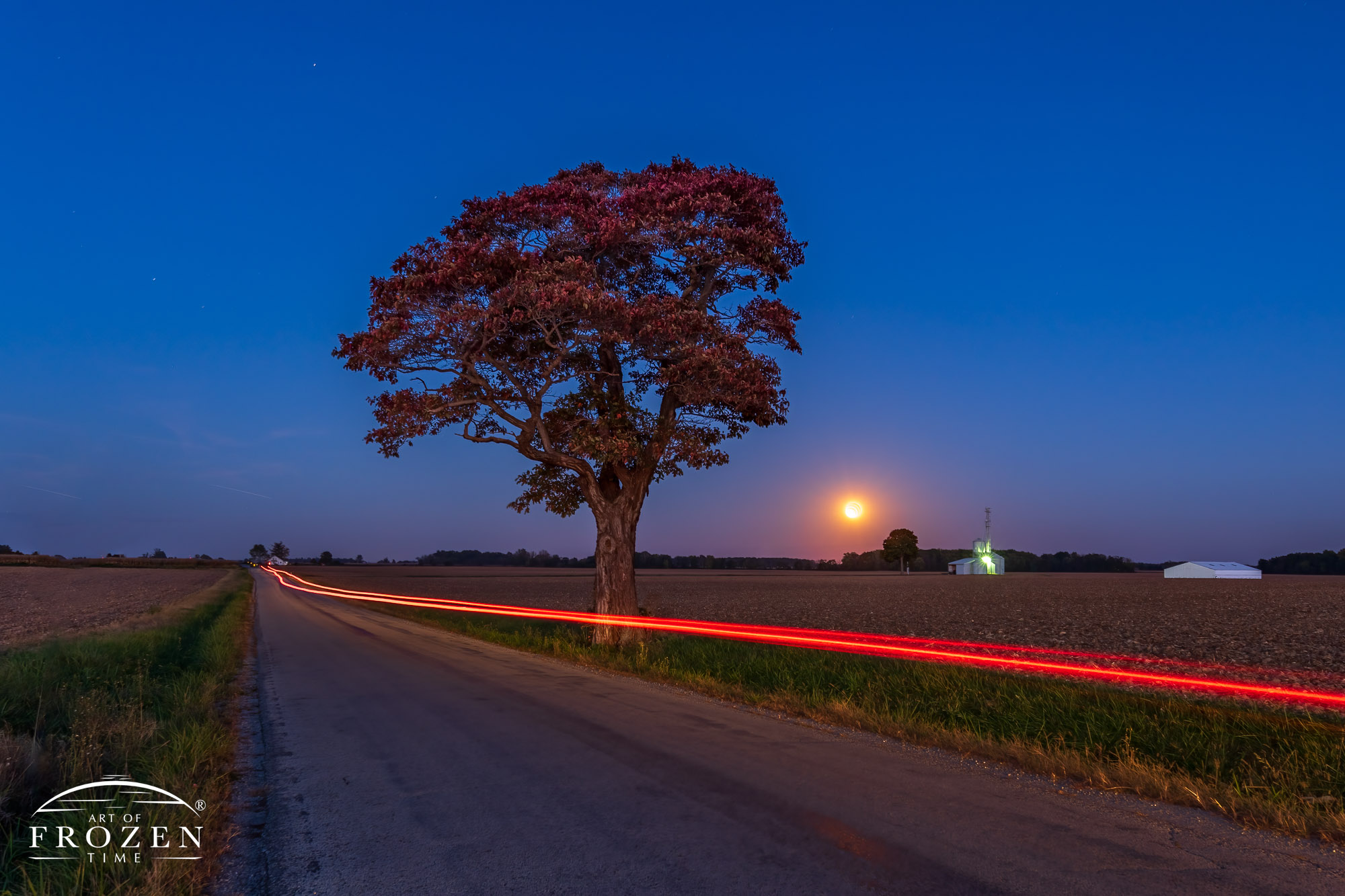 Hunters Moonrise over Greene County Ohio
The Story. I've titled this print, Hunters Moonrise over Greene County. It features a favored country road in Greene County where a lone tree stands along Ohio farmlands. With the farming season nearing completion, the October Hunter's Moon rises over a field that recently held corn. In this timeless scene, the pinks and purples of the western sky illuminate the tree's autumn-colored leaves as a family makes their way home.
Ohio Fine Art Photography
The Rest of the Story. This Hunters Moonrise over Greene County Ohio, was the second celestial event that I've witnessed from this spot.  Four months prior to this scene, I first found this spot during a dramatic partial solar eclipse at sunrise.  In fact, for both images, the moon occupies the same spot to the right of the tree.  If you have a moment, you should really check out my "Solar Eclipse at Sunrise No. 2". 
As a second point of introspection, every time I view this print, I also think of the friendly people who stopped to check on me. This spot resides along a quiet road in Greene County, Ohio. In preparing for the moonrise, I arrived early and waited along the side of the corn fields. Seeing the back hatch of my truck opened, they assumed my 23-year truck broke down. When I shared the moon was going to rise in a few minutes, they smile and wished me the best. This last car hadn't noticed the rising moon when they stopped. As they departed, I captured their taillights with a long exposure as they made their way home.
Hunters Moonrises in New Moonscapes Gallery
I find that capturing moonrises in relation to the surrounding landscapes makes for peaceful and calming art prints. I hadn't realized until a few weeks ago how many times I've captured a moon rise. As a result, I call this series Moonscapes. In addition to categorizing this scene under my Greene County portfolio, I also have tagged it as part of my Skyscapes Gallery which also features clouds, sunrises, eclipses and storms.
Rosewood Art Center Exhibition: Works on Paper
Additional provenance lies in this artwork's acceptance to the Rosewood Art Center 33rd Works on Paper Exhibition. This is Kettering, Ohio's longest-running exhibit where 72 artists submitted 200 prints for consideration. The juror only accepted 25% of the submissions, making this a competitive exhibition. The Works on Paper Exhibit runs through February 25, 2023, and features this scene as an 11" x17" print.
Sugarcreek Photography Gallery
With the release of this image, I have a 20 x 30-inch framed giclee canvas print hanging in the Sugarcreek Photography Gallery! It hangs right below the print depicting the dramatic solar eclipse at sunrise mentioned above. For me, these two prints are naturally paired together. Visiting our gallery is free and were open Thursday & Friday 2-6pm and Saturday & Sunday 12-6pm.
If you'd like to see more local art, check out my other Greene County Ohio art prints organized by county villages.