2021  Centerville Arts Commission Gallery, Centerville, OH—featured 25 framed canvas prints
2020  The Dayton Club, Stratacache Tower, Dayton, OH–featured 21 framed giclee canvas prints
2019  Haines Children's Center, Dayton, OH – A Passport To The Arts fundraiser/exhibition for the Montgomery County Children Services Staff
2023  Ohio Artist Registry Exhibition, Ohio Arts Council, Columbus, Ohio (1 of 36 selected from 419 submissions)
2023  33rd Annual Works on Paper, Rosewood Art Center (1 of 52 selected from 202 prints)
2022  Photography & Digital Art Competition, Middletown Arts Center, (3 of 42)
2022  Eyewitness: A FotoFocus Biennial Exhibition, Dayton, Ohio
2022  32nd annual Dayton-area Works on Paper, Rosewood Art Center (2 of 54 picked from 200)
2022  Farm to Table Exhibition, Greater Dayton Photography Group, Fairborn OH (3 of 30)
2021  Greater Dayton Photography Group Juried Exhibition, Beavercreek OH, (2 of 20)
2021 75th Annual Juried Members Exhibition, Springfield Museum of Art (a Smithsonian Affiliate)
2021 50th Hamilton Current: Hamilton's Regional Art Competition, Hamilton, OH 
2021  Grace Unity Methodist Church, The Gallery at Grace, Dayton, OH
2021  ADC Fine Art Gallery, Art Comes Alive Exhibition, Cincinnati, OH
2020  Springfield Museum of Art 74th Juried Members' Show, Springfield, OH
2020  The Contemporary Dayton 29th Annual Open Members' Show, Dayton, OH
2020  The Fitton Center Member Show, Hamilton, OH
2020  The View 26th Annual Juried Landscape Exhib., Kettering OH (2 of 36 prints from 125 entries)
2019  Holiday Gift Gallery, Dayton Contemporary, Dayton, OH  
2019  1st Annual Dayton Photography Group Exhibit (Juried), Lofino Gallery, Beavercreek, OH
2019  Art in the City, Mudlick Taphouse, Dayton, OH
2019  Life in the City, Front Street Bldg, Dayton, OH
2019  The Glow, The Contemporary Dayton, Dayton, OH
2019  Birds and Bees, Yellows Springs Artisans, Yellow Springs, OH
2019  25th Annual The View Juried Landscape Exhibition, Kettering, OH
2019  49th Hamilton Current Local Art Competition, Hamilton, OH
2019  25th Annual Art Auction, Dayton Contemporary, Dayton, OH
2018  Holiday Gift Gallery, Dayton Contemporary, Dayton, OH
2018 Art in the City, Dayton, OH - 1 of 10 artists selected for a city-wide event featuring hands-on activity, juried art exhibition, and live music.
2018  72nd Annual Juried Members' Exhibition, Springfield Museum of Art, Springfield, OH.
2018  The Light Within, Dayton Visual Art Center, Dayton, OH.
2018 The View Juried Landscape Exhibition, Rosewood Gallery, Kettering, OH (1 of 30 pieces selected from 330 submissions).
2017  Mississippi River Art and Photography ShootOut, Confluence Art Gallery, St Louis, MO.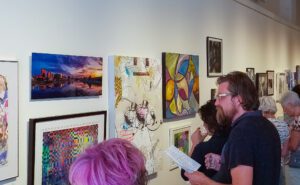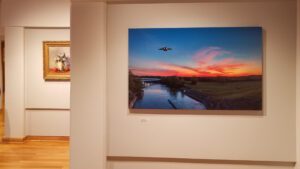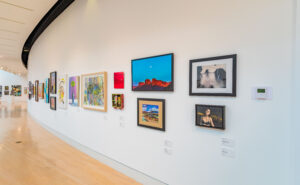 2023  Rhodes State Office Tower Installation—2 prints of 20 winners from 339 submissions
2022  Middletown Arts Center, Photography and Digital Art Competition—1st place Landscapes
2022  Merit Award during 32nd annual Dayton-area Works on Paper, Rosewood Art Center
2021  Bellbrook Sugarcreek Park District 2021 Calendar - Sugarcreek Sunflower Sunset No. 3 (1st Place) & Late Fall Sunset over Morris Reserve No. 7 (3rd Place)
2021  Dayton Photography Group Gallery Contest, Dayton, OH (2 of only 20 prints) Sunrise along Osage Orange Tunnel No. 7 and Colorful Cox Arboretum Sunset No. 3
2021  Art on the Lawn, Yellow Springs OH. Won Best Booth of the Show among 100 other artist
2021  Middletown Art Center, Photography and Digital Art Competition, 3 images selected, 1 honorable mention
2021  Zenfolio Pick of the month, Spooky Gulch Canyon, Jun 2021
2019  Dayton Photography Group Gallery Contest, Dayton, OH (2 of only 20 prints)
2019 AmericanTrails.org National Recreational Trails Photo Contest (Historic Features) – Carlyle Lake Multi-Use Trail, Carlyle, IL
2018  Bellbrook Sugarcreek Park District 2019 Calendar - Morris Reserve Prairie Sunset (1st Place) and Bellbrook Bliss (3rd Place)
2022  U.S. Post Office Mighty Mississippi Stamp Series—Fiery Frozen Gateway Arch No. 2 (On Plate Selvage)
2022  BeLocal South Dayton—Cover Image + 15 Dayton area images
2022  Bellbrook-Sugarcreek Neighbors Magazine—12 Images for 2022 
2022  Bellbrook Sugarcreek Park District 2022 Calendar—Two images
2021  Bellbrook-Sugarcreek Neighbors Magazine—12 Images for 2021 and FB Header Image
2021  Greater Dayton Relocation & Newcomer Guide—2021, City Info Section
2021  Dayton Magazine: Girl's Dayton in Downtown Dayton - 4 Mar 2021
2021  Dayton Daily News - Dayton On Display - 10 Feb 2021, pg 10
2020  Dayton Daily News Special Edition - In The Balance - 6 Sep 2020
2020  It's Great in Dayton – 18 May 2020
2020  Greater Dayton Relocation & Newcomer Guide—2020, City Info Section
2020  Bellbrook-Sugarcreek Neighbors Magazine—Mar 2020, pgs 2 and 13
2020  Bellbrook-Sugarcreek Chamber of Commerce Newsletter Cover
2019  Dayton Calendar by Oregon Printing—Dayton Skyline at Twilight--April
2019  American Trails Magazine – Carlyle Lake Multi-Use Trail – Spring Issue, pg 23
2019  Bellbrook Sugarcreek Park District – Bellbrook Bliss – Morris Reserve History Hike
2019  Landscape Architect & Specifier News – Brig Gen Dean Bridge – April Issue, pg 72
2018  Dayton Magazine – RiverScape Swirl, Oct-Nov Issue, Love Dayton Section
2018  Dayton Daily News, (Rosewood Presents the View) –Frozen Sunset Over Caesar Creek, 10 Jun 2018
2018  Dayton Magazine – Peaceful RiverScape, April-May Issue, Love Dayton Section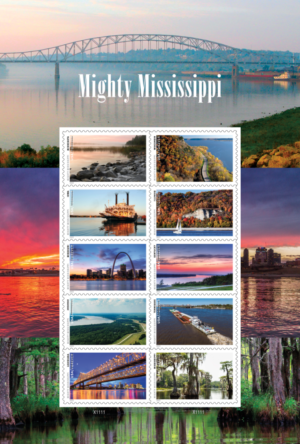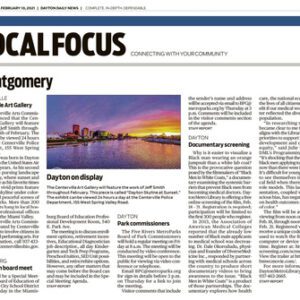 2023  Kettering Health Network (3 Miami Valley Locations), 17 prints (to date)
2023  Advanced Laser & Cosmetic Center, 4 prints
2022  Kettering Health Network (17 Miami Valley Locations), 129 prints
2021  Kettering Health Network (9 Miami Valley Locations), 86 prints  
2020  Kettering Health Network (10 Miami Valley Locations), 71 prints
2020  Mandalay Banquet Center, 3 prints
2019  Kettering Health Network (16 Miami Valley Locations), 98 prints
2019  Christopher Restaurant, Kettering OH, Huffman Prairie Twilight
2019  Duvall & Associates Inc, Oakwood OH, Dayton Skyline at Twilight
2019  CareSource, East First Street Bldg, 2 prints
2019  Horenstein, Nicholson & Blumenthal Law Firm, Dayton, OH, 5 prints
2018  Kettering Health Network, The Years Ahead Health Center, Centerville OH, 11 prints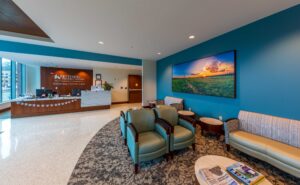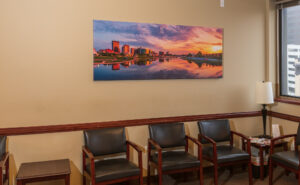 2022  10 Fine Art Prints—Fairborn, Beavercreek, Bellbrook, Centerville, Oakwood OH
2021  19 Fine Art Prints—Dayton, Kettering, Chillicothe, Springboro, Miamisburg, OH; Ocala, FL
2020  18 Fine Art Prints—Dayton, Beavercreek, Bellbrook, Baltimore, MD; Huntsville, AL; Atlanta, GA; and St Louis, MO
2019  18 Fine Art Prints—Dayton, Beavercreek, Bellbrook, Centerville, Tulsa, OK; Columbia, MO; Olivette, MO; Ballwin, MO; and Pittsburgh, PA
2018  3 Fine Art Prints—Dayton and Kettering, OH
Locations Selling My Prints
2023  Sugarcreek Photography Gallery, Bellbrook Ohio. (60 prints on display where I'm 1 of 4 business partners)
2023  Dayton Art Solutions, Dayton, Ohio (Patrons can special order any print from this location)
2022  Dayton Art Institute, Dayton Ohio
2022  Robin Imaging, Cincinnati, Ohio (Patrons can special order any print from this location)
2022  Mudlick Tap House, Dayton, Ohio
2021  ADC Fine Art Gallery, Cincinnati OH (Both Blink Catalog and ACA Gallery Exhibit)
2020  The Dayton Club, Kettering Tower, Dayton, Ohio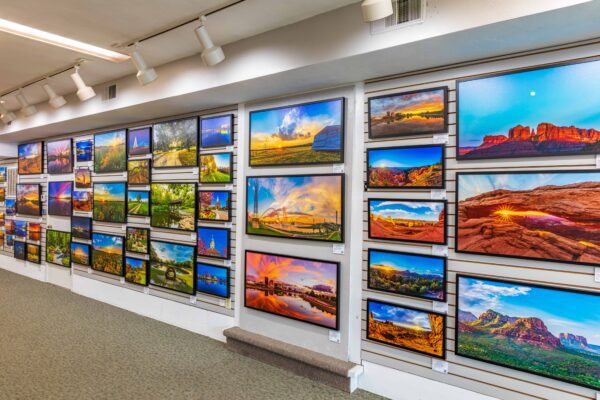 Note:  With the opening of the Sugarcreek Photography Gallery in 2022 which permanently sells my work, I don't foresee the need for temporary local art fairs
2022  38th Art on the Lawn, Yellow Springs, OH 13 Aug 2022
2022  34th Art on the Commons, Kettering OH, 14 Aug 2022
2021  ARTFest on Main, Springboro, OH, 28 Aug 2021 
2021  37th Art on the Lawn, Yellow Springs OH, 14 Aug 2021 (Won Best Booth of the Show--100 booths)
2020  32nd Annual Art on the Commons, Kettering, OH (Virtual Event), 6-9 Aug 2020
2019  Dayton Art Institue Oktoberfest 2019, Dayton, OH, 27-29 Sep 2019
2019  31st Annual Art on the Commons, Kettering, OH, 11 Aug 2019