Mighty Mississippi First Day of Issue 1
This framed stamp memorabilia holds a Mighty Mississippi Stamp Sheet.  The stamp sheet features the ten stamps that reside on three background images called selvage.  The stamps and background images feature Mississippi River scenes as it flows through the United States.
On 23 May 2022, the US Postal Service held its first day of issue ceremony at Beale's Landing, in Memphis, Tennessee.  This stamp sheet holds the signatures of Mississippi River mayors, dignitaries, and photographers who were honored at the ceremony.  The stamp sheet also holds the first day of issue postmark.
This framed print depicts one of the background images capturing the Gateway Arch during an unusually colorful sunset over the St Louis skyline.
This 17″ x 25″ black frame holds the artifacts under museum glass which reduces glare and provides UV protection.   The frame's back is archivally covered, holds a certificate of authenticity, and comes with a ready-to-hang gallery wire.
I've already sold the first frame.  This signed set is #2 of a set of 4.  Given the rarity of the signatures of those who attended the program, there will never be a second edition.
Description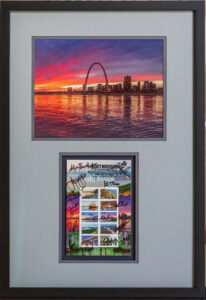 This framed print shows a colorful sunset over the Gateway Arch that was used by the US Postal Service in the stamp series, Mighty Mississippi. The frame also holds a first day of issue and autographed stamp sheet under museum glass.